In addition to features in many major media, check out these happy reviews from our Tiger Tail tribe of users: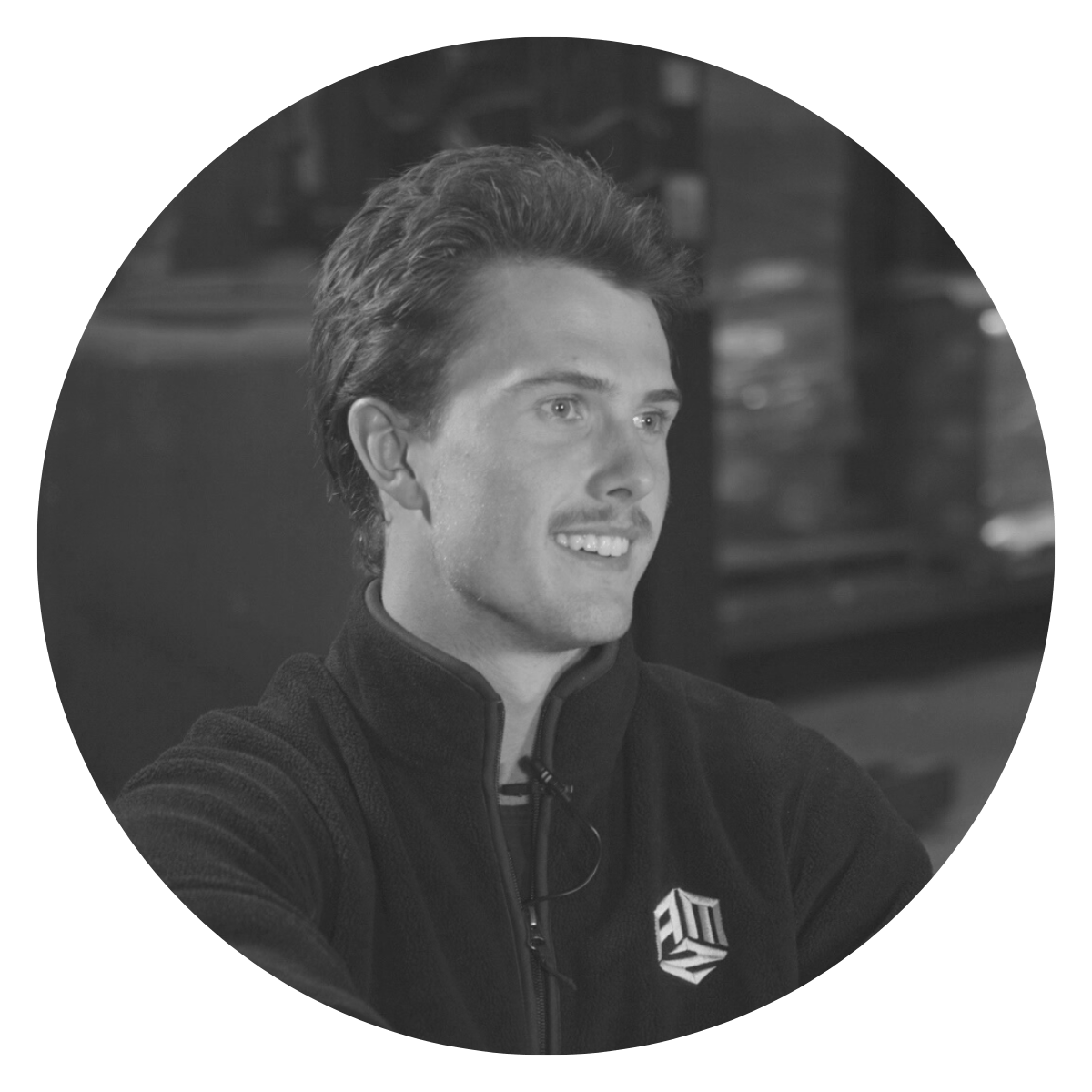 BLAIR F., TORONTO, ONTARIO – CANADA
Alright, listen up, fellow gym warriors and CrossFit champs! If you're all about crushing those workouts and leaving it all in the gym, then you gotta know about the Tiger Tail Massage Roller. This thing is like having a personal massage therapist at your beck and call, ready to tackle those post-workout aches like a pro.
The best part? That smooth roll action feels like a mini massage vacation, breaking down all those knots and getting the blood flowing like nobody's business.
Now, here's where it gets wild. The Tiger Tail is basically the Hercules of portability. It's compact enough to fit in your gym bag, but it's like a heavyweight champ when it comes to results. I've been using it daily, and guess what? My muscle soreness is on vacation, and my recovery time is practically in warp speed.
In a world full of recovery gadgets, the Tiger Tail is the real deal. You serious about leveling up your recovery game? I couldn't back a product more than there's and for the price, 100% worth every dollar.
JOHN C., LOS ANGELES MARATHON
"I've seen a lot of these types of products.
This one beats them all."
SEAN S, DENVER, CO
"Received the Tiger Tail product and I'm IMPRESSED. This is way better than [other products on the market] and a bonus that it's female owned company."
RONNIE, F., HOLMES BEACH, FL
"YES…the Tiger Ball 1.7 and 5.0 would be welcome additions to my classroom tool kit as my "muscle care philosophy" is that we benefit the most by using different tools for different muscles based on desired outcomes. The Tiger Tail Massage Stick is by far the best stick on the market…can't wait to start using the other tools. Thank you!"
DOROTHY G., BLOOMSDAY
"I can't believe something that simple can feel so good!"
PAUL M., NASHVILLE, TN
"We are a private personal training studio that serves clients who come to us with special needs, aches, and pains. The Tiger Tails [rollers] have proven to be a great tool for alleviating the pain and providing a better range of motion for the clients who use it consistently. We are happy to recommend the Tiger Tail products to our clients and would like to be a distributor going forward. Thanks for creating such an awesome product!!"
MONICA F., DANSKIN TRIATHLON
REBECCA C., SCOTTSDALE, AZ
"I liked the booklet on trigger points. In terms of simplistically and understanding, it is something I have both referenced and recommended to specific clients. The majority of my warmups have involved using the Tiger Tail roller on my lower leg and quad. Doing a light roll over those areas tremendously eases my effort in getting into a squat position. The Tiger Tail roller is something I frequently recommend."
"The Curve Ball is legit. Stays anchored on the ground/ wall. You can grind on it and get into tissue. It's steps above the lacrosse ball."
CLAIR DAVIES, NCTMB
"National Trigger Point Therapy guru Clair Davies, the author of the Trigger Point Therapy Workbook, recommends the Tiger Tail to help work out trigger points. He states "Trigger point massage can get rid of your pain in two or three days with three treatments per day. If trigger points are the problem, you'll get a discernible degree of immediate relief."
SUSAN C., SEATTLE INTERNATIONAL BICYCLE EXPO
"That's the best 30 bucks I ever spent!"
KYLE D., KIRKLAND, WA
"By the way, I LOVE my Tiger Tail. It has brought my IT bands back from the brink of destruction on many occasions."
CHRISTINE, E., SEATTLE, WA
"I am thankful for meeting you last March. Your products have become part of my daily life and have greatly improved the lives of many of my clients. Thanks for being so awesome!"
CHRISTINE E., SEATTLE, WA
"Well, I promised you feedback, and I must say I am genuinely impressed! As soon as I tried it, I knew which clients of mine I wanted to show it to and they have all LOVED it! I find it particularly appealing for my clients that cannot (due to size/strength/mobility) fully utilize the foam roller or lacrosse ball for muscle work. It is fantastic for everyone, but I am most excited about my clients who have a tough time with the standby rollers and balls. The ability to use it while standing is fantastic!"
KELLY L., OLYMPIA, WA
"Hi Tiger Tail! I just wanted to drop you a line and tell you how much I love your product! I have seen them before at many expos around the WA area and have been intrigued. My friends have one and they sing your praises! Well, this weekend I was set up to do my first double half marathon weekend. I forgot my foam roller! No! Lucky for me, Tiger Tail was at the Seattle Marathon Expo. The lady who helped me out was so nice and explained a lot about what it does, and let me try it. It was amazing, and I finally got one! In the hotel that night, I rolled out all my Ouchy spots, and I really think it saved me. On the Tiger Tail rep's advice, I rolled again in the morning. I really think it saved me and helped me complete my second half marathon in 2 days. Thank you so much for your help this weekend! It would have been much more painful without the Tiger Tail."
MARTIAL ARTIST STEVE C., SAN PEDRO, CA
"As a martial artist who trains 5 days a week, this product is a true blessing. Not only does it cut down my pre-workout warm-up from 30 minutes down to 10 minutes, but by rolling after a workout, the next day I'm good to go for the next training session without muscle soreness. If you just want a relaxing massage this as well many other devices work well. However, if you're really serious about you're training you have to get the Tiger Tail."
JENNY J., HUNTINGTON BEACH, CA
"Hi Tiger Tail, I am contacting you because I think my daughter (16) is your biggest fan. She just made the 2018 USA water polo team, they are traveling to Canada this Summer for the Youth Pan American games. Let me tell you a story…Recently my daughter went to the airport to head to selection camp in an attempt to make the USA team. I dropped her off, and then later after I was home, I got a frantic call that she had forgotten her Tiger Tail!! I rushed to the airport and literally handed it through the window as she raced to her flight. When she made the team a few days later, she LITERALLY told me she was able to keep up with the 9 hour days of treading water due to her Tiger Tail. She said she was able to give her best performance ever at the final scrimmage, on the last day, after 4 grueling days, because her legs felt great!!"
KMV, DES MOINES, IA
"I just bought this muscle massager. It works great. Five minutes using this stick feels better than many hour long massages that I've received. I do kickboxing and am a black belt in martial arts. I know a thing or two about sore muscles. This massager hits the sore places and is easy to manipulate so that you can use it by yourself or with a partner. Definitely worth the money."
JONATHAN, E., MARIETTA, GA
"I was reading Runners World and saw the Tiger Tail [18" roller]. Great press and even better product!"
JOYCE G., BELLEVUE, WA
"My friends and I finally made that Grand Canyon trip. I brought my Tiger Tail along and it was a BIG HIT with my buddies! Thanks again!"
TONY P., EUGENE MARATHON
"The Tiger Tail is not torturous like the foam roller is."
CHRIS P., BOSTON, MA
"Thanks for sharing the photo of the Broncos with the Tiger Tail. We do a lot with Luke and the Broncos…I guess they like them as it is on the sideline of the biggest game in the world!"
ERIC B, MARATHON MANIAC
"The Tiger Tail is like a massage therapist on a stick!"
MIKE STUDER, PRESIDENT OF NORTHWEST REHABILITATION ASSOCIATES
"1) The Tiger tail gives your patients the opportunity to strengthen without fear of delayed onset musclebsoreness (DOMS) that can hinder their function for days. 2) It gives patients an opportunity to have some control over their pain. 3) Patients often have a hard time grading the force needed for self-treatment with trigger points. They push too hard and cause more soreness in many cases. The Tiger Tail is easier and a more effective selftreatment. 4) My patients that are recreational and competitive athletes are sold on the benefits of immediate postworkout
use of the Tiger Tail…and as an amateur triathlete – so am I!"
DR. JEFF HILL, DPT, MA, CSCS, DIRECTOR
"I was recently introduced to the Tiger Tail Rolling Massage and was very impressed with the design, quality and performance. As a doctor of physical therapy, I am always looking for home products for my patients that are easy to use and that supplement the treatment I give in the clinic. The Tiger Tail is a perfect tool for self soft tissue mobilization. I highly recommend the Tiger Tail to my patients as an adjunct to therapy."