Description
PLEASE NOTE: Before beginning any type of massage therapy or treatment, seek the advice of a physician.
DrySoak™ Hot Water Therapy Pillow: Simple yet Effective Tool to Relieve Sore Muscles
The DrySoak™ Hot Water Therapy Pillow is a simple, effective tool that delivers deep, penetrating treatments. The therapy pillow helps relieve sore muscles, soothe minor muscle pain and cramping, and alleviate stress and tension. Each bag is constructed of a soft, pliable, double-layered, lightweight polymer plastic that is durable enough to support 600 lbs. of pressure. Secure, leak-proof lid, pops on easily. The bag opening is large enough to fill easily and accommodate most sizes of ice cubes. Hypoallergenic, No Latex, No Odor, Food-Grade Material. Bags come in three sizes: Large (5 Gallon – 21″ x 23″), Medium (2.5 Gallon – 15" x 18"), Small (1 Gallon – 11" x 15").
Benefits:
Provides deep and quick muscle penetrating temperatures (delivers moist heat therapy OR cold/cool therapy)

Conforms to all body curves

Soothes minor muscle pain and cramping

Relieves sore muscles

A quick, convenient way to rotate between heat & cold therapy

Alleviates stress and tension

Great for travel: lightweight and packs small
Features:
NO LEAK Technology! Bag and cap construction has gone through rigorous testing processes.
2-polymer layers offer incredible strength and insulation while remaining soft and comfortable.
Water stays therapeutically warm (or cold) for 2-4 hours with proper use. Some report even longer!
Easy to use with simple tap water (113°F or less!)
Opening for filling is large enough to accommodate most ice cube sizes.
Bags have a 90-day manufacturer warranty (Many customers report using them for years.)
Safe Polymer Materials: Non-Allergenic, BPA Free, Latex Free, Odor Free, Phthalate Free
Three sizes: Large (5 Gallon), Medium (2.5 Gallon), Small (1 Gallon), or Small 2-Pack
Quick Instructions:
Fill with tap water (cold or hot – 113°F).
Fill the bag 1/3 full (or less) with water. Each Bag is marked with a "fill line".
Use on any part of the body. The bag conforms to all body curves and supports up to 600 lbs of pressure.
Soothes sore muscles. Relieves minor muscle pain, aches and cramping.
Enjoy relaxing comfortable relief.
NOTE: Do not use boiling water. Do not freeze.
Details:
Won't leak! Bags are constructed of soft pliable material with dual-layer technology and a leak-proof cap
Keeps cool/warm temperature 2 hours or longer, depending on the conditions
Hypoallergenic, No Latex, No Odor, BPA Free, Phthalate Free, Food-Grade
FSA Eligible product (Flexible Spending Account)
Durable double-layer ultra-thin polymer
Made in the USA
1 Gallon – 11″ x 15″ (2-Pack)
Who Can Benefit:
Someone who carries stress and tension in their head, neck, back, shoulders, arm, elbow, knee, shin, calf, and other muscles. Great for massage therapy, physical therapy, chiropractic care, post-surgical care, fibromyalgia care, menstrual cramps relief, and post-delivery care. Anyone who needs quick portable first-aid for muscle sprains and strains, from elite athletes to backyard warriors.
Where Does It Work Best:
All muscles and joints. For neck, shoulder and back care, simply lay on the water bag. For menstrual cramps, position the bag on your abdomen area. For bruises on the elbow, wrist, knee, and ankle, fold the cold water bag around the area.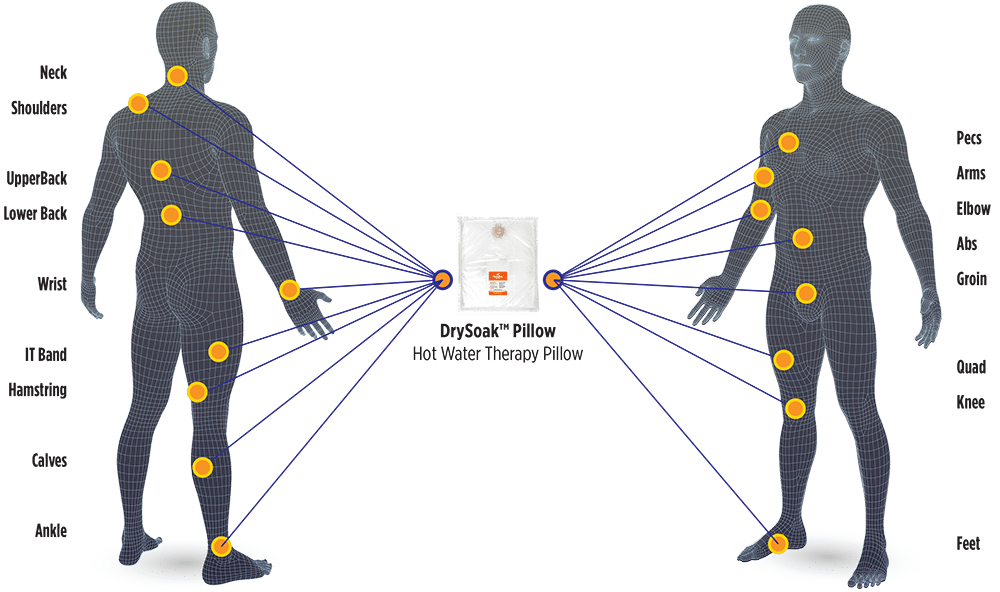 Multiple Applications:
In addition to using the water therapy bags for muscle care and comfort, users continue to come up with new creative ways to use the multipurpose bags. One popular use is to blow it up like a balloon and use it as lumbar support while driving. Truckers and road trippers often use this trick to make their trips more comfortable.
Campers and hikers love to use the air pillows because they are so lightweight and portable. Cover with a pillowcase and you're ready for a comfortable night no matter where you sleep.
The bags are constructed of food-grade plastic. This means they are FDA-approved, BPA-Free, Latex-Free, Phthalate-Free, Odor-Free, Non-Allergenic, and Non-Toxic which makes them perfect for emergency clean water storage. They are also great for those hikers and camper that want to conveniently pack in with fresh water. NOTE: For liquid storage, the large bags hold 5 gallons!