Description
Knotty Dots® Bulk includes 25 Knotty Dots and 25 Tiger Tape Patches, perfect for those who use the Knotty Dots regularly. The Knotty Dots provide acupressure point treatment to help relieve sore muscles. The Tiger Tape Patches attach the Knotty Dots to your body, allowing a constant pressure on your muscle knots/trigger points.
PLEASE NOTE: Before beginning any type of massage therapy or treatment, seek the advice of a physician.
Provides active and passive pressure point treatment
Helps relieve sore muscles
Helps muscle recovery
Targeted trigger point release
Simulates acupressure or thumb/finger pressure massage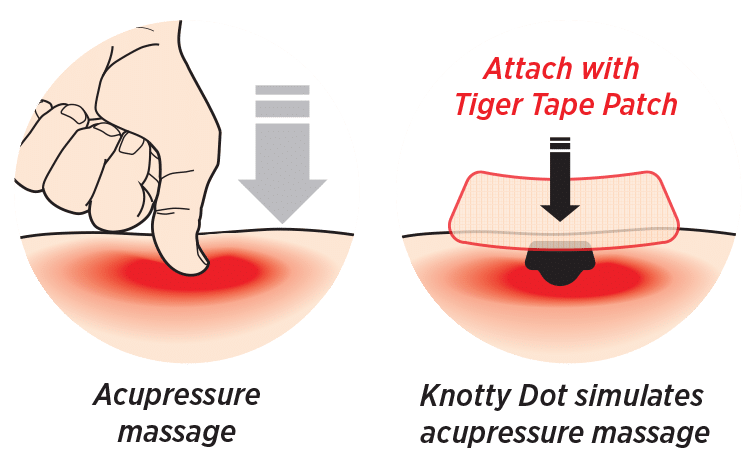 Quick Instruction
Attach Knotty Dot to the sticky side of the Tiger Tape.
Place the Tiger Tape with the Knotty Dot on the intended muscle knot. Make sure the skin is clean and dry. Avoid placing the tape on injured or blistered skin.

The Knotty Dot works like a "thumb" tool. You may add pressure while adhered to skin to further stimulate the muscle knot or leave it alone as you're doing your daily activities.

Please remove Tiger Tape Patches after 24 hours of use and replace with a new Tiger Tape Patch.
Details
Knotty Dot – 0.625″ massage surface
Tiger Tape – 2.25″ x 2.25″ surface
Who Can Benefit
Someone who carries stress and tension in their head, neck, back, shoulders, arm, elbow, knee, shin, calf, and other small muscles. Constant massage saves hands, fingers, and thumbs from fatigue. With the right amount of pressure, it actually can feel like a "thumb" tool – where someone is using their thumb or fingers to help dig into some of the tough, tight muscles.
Where Does It Work Best
Works best on the head, neck, back, shoulders, arm, elbow, knee, shin, and calf and other small muscles.