Introducing the T-800 Vibration Massager: Your Ultimate Muscle Relief Companion!
Unleash the Power of Percussion! Experience cutting-edge muscle relief with our long-arm, cordless massage device. It's designed to revolutionize your wellness routine, offering you a world of comfort and relaxation. Our T-800 utilizes the incredible percussion technique known as tapotement to deliver intense muscle compression. This technique triggers a myofascial release that works wonders, reducing soreness, tackling muscle knots, and soothing those persistent trigger points. Say goodbye to muscle cramps and discomfort! It's time to unwind, relax, and let the T-800 relieve your stress and tension.
Fully charge the battery before first use (approximately 4-6 hours).
Remove the charging port plug.
Plug the AC charger into a power outlet. The AC Charger light will turn green.
Plug the AC charger into the T-800 charging port. The AC Charger light will turn red.
Keep charging until the AC Charger light turns green (Approximately 4-6 hours). The T-800 is now fully charged.
Unplug the AC charger to turn on the T-800.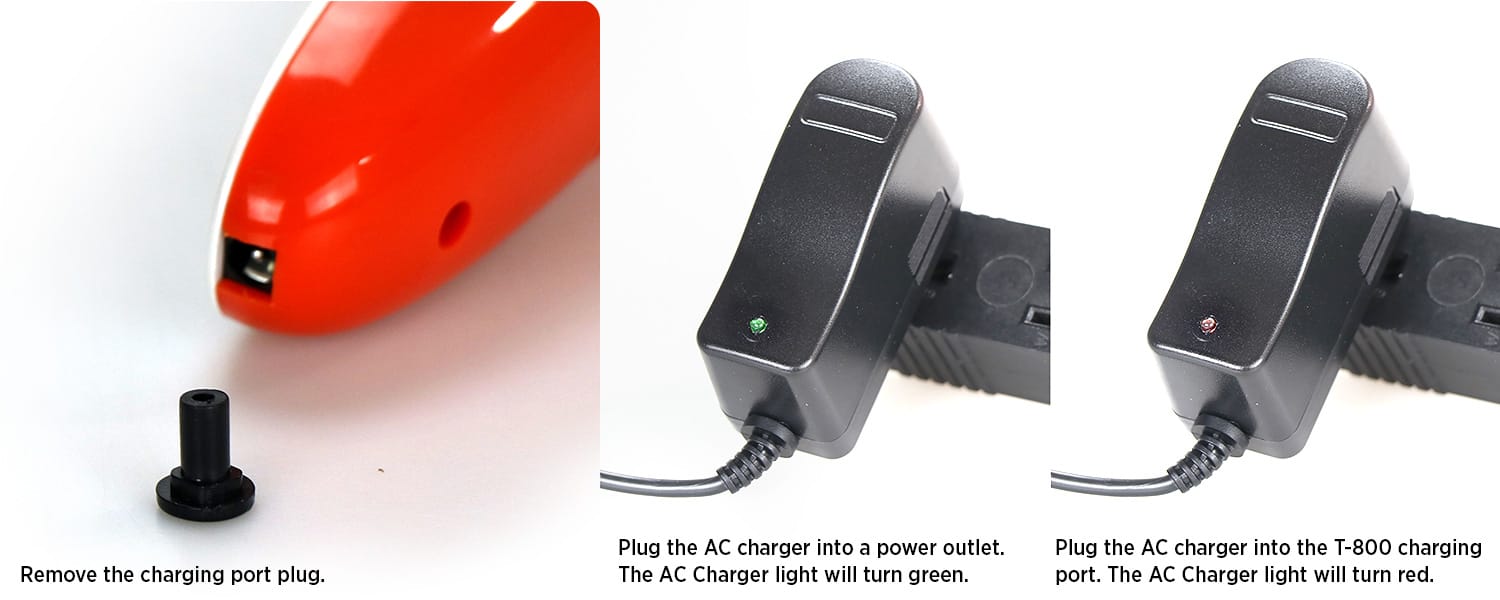 To turn on: Press the power button.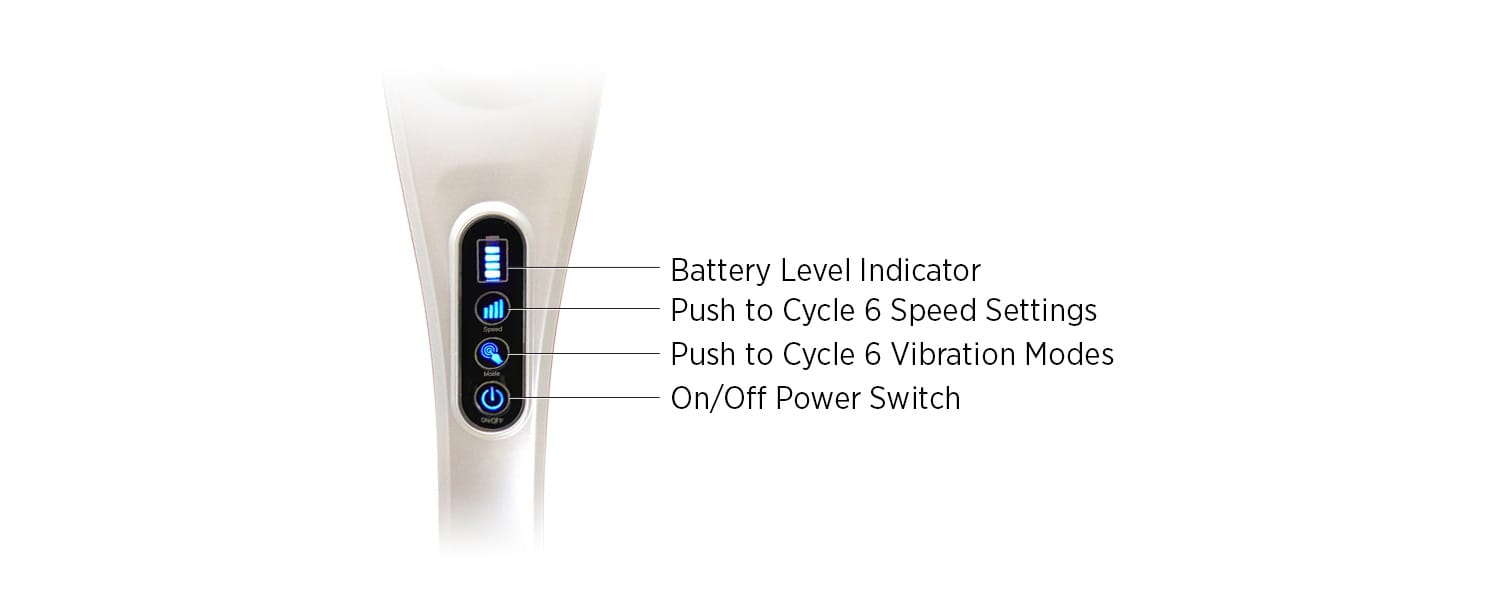 To change the vibration mode: Press the vibration mode setting button to cycle through the 6 different vibration modes.
To change the speed: Press the speed setting button to cycle through the 6 different speed settings.
To turn off: Press the power button
To replace a massage head: Unscrew the massage head and replace it with a different massage head.

| | |
| --- | --- |
| | Round – This firm round tip is the most muscle-versatile in the kit. This design allows the machine to perform deep compressions on the muscles and fascia, while the circumference of the half ball prevents the tip from "going too deep." Designed to treat both large and medium group muscles; most enjoy this tip on shoulders, neck, hips, glutes, quads, hamstrings, and the back. |
| | One-Point  – Best used on those pesky muscle knots (aka muscle trigger points) that just need some encouragement to go away. The One-Point tip helps the machine deliver focused, deep compression and action on muscle knots that just won't let go. |
| | Curve – Sometimes our pain is all fascia-related, meaning surface work is all you need. The Curve tip is a great multipurpose tip that helps deliver surface-level compression to help you focus on fascia problems just beneath the skin and above the muscle. |
| | Acu Disc – The Acu Disc tip is great for acupressure massage. Use this tip to increase blood circulation and help the body release its natural endorphin so you can relax, relieve stress, and soothe tension. Great for the feet, back, neck, and shoulders, and makes at-home acupressure easy! |
| | Five-Point – The five-point tip is equipped with Tiger Tail's signature Gription® technology to deliver deep grip and friction to fascia and muscles. This tip softens pressure on the skin while gripping the fascia and muscles. Moving these tissues together and away from each other enables myofascial release. In addition, the cushioned tips help dampen the force applied on both the muscle and fascia, which delivers a deep, yet gentle, compression. |
Details
17" Long, 3.25″ Wide (Packaging – 17.5″ L x 6″ W x  4″ D)
5 Different Massage Head Accessories
1.8 Lbs. (Machine Weight Without Attachments)
No-Hassle, One-Year Warranty
Who Can Benefit
Someone looking for a tapotement/percussion massage technique that is quick and easy to use on yourself, especially on the shoulder and back. No buddy is required. Top athletes, yardwork warriors, and pretty much anyone with muscles will love this tool.
Where Does It Work Best
This device works on any muscle group. With the device powered on to your desired vibration mode and speed setting, apply the massage head to all muscle groups needing a massage. Lightly apply pressure and move across the body and muscle areas for approximately three (3) sets of 30 seconds per muscle area. Apply additional massage applications to your muscle areas as needed. Avoid using over bones or sensitive tendons.  You are the best judge of which vibration mode, speed setting, amount of pressure, and length of massage application you should use.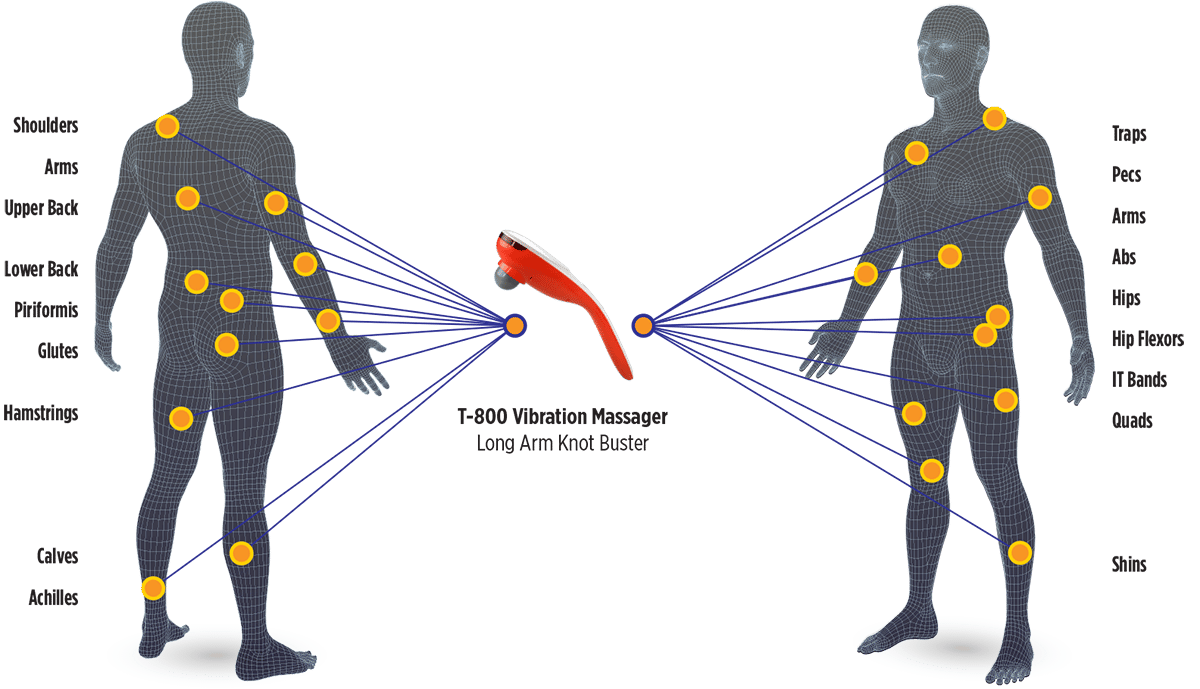 Tiger Tail electric/battery-operated products are warranted for one year from the date of purchase. We offer a 30-day money-back guarantee from the date of purchase, thereafter we provide a replacement for all warranty claims. For more details, please visit our warranty page.